Tapering Service Alterations
Alterations
SKU:
A-TAPER-LEG
Availability:
1 to 10 Days Rush Services. Regular Service Currently 30 - 45 Days
Tapering service for jeans, similarly made pants, and overalls from any brand can be ordered online here.
You can customize the leg shape of your jeans here. Order tapering alterations for WGC or any other brand of jeans. Our tapering service includes chain stitch hemming shortened to your custom-requested inseam length. Heavyweight denim is no problem.
When it comes to tapering, Iron Heart is one of the most popular brands we service, followed by Gustin, Brave Star, and a slew of Japanese favorites like: The Flat Head, Samurai, Oni Denim, Sugar Cane, Orslow, Studio D'Artisan, Pure Blue Japan, Tanuki, Full Count, and The Strike Gold. American made regulars serviced include: 3Sixteen, The Rising Sun, Roy Denim, Railcar, Leftfield NYC, Imogene + Willie, Tellason, Raleigh Denim, Taylor Stitch, Naked & Famous and Freenote Cloth. We also taper a great deal of  Supreme, Levi's, Lee, Wrangler, Unbranded, Big John, Nudie and A.P.C. jeans.
We do not sew extra-wide flat-felled seams or use multiple thread stitching, as seen on many True Religion and Buckle jeans. Standard size flat-felled or overlocked seams and chain-stitch hems are available.
Customize the leg shape of jeans & pants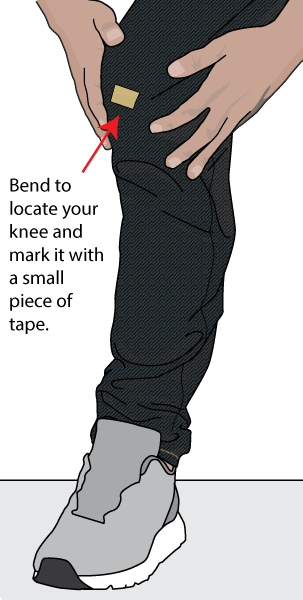 Customized Measurements
Feel free to supply your own customized measurements. As example, some customers want the knee area a certain width, or the width thigh adjusted. We will do our best best follow your instructions, even if they don't make sense to us, so be sure that your measurements will work. There are no refunds. In many cases we will contact you to confirm special request.
Disclaimer: We do not take orders for jeans with extra wide flat-felled seams or multiple thread stitching construction, as seen in most True Religion or Buckle jeans.
Dirty & Hairy Pants
Please ship your jeans & pants to us clean and with any animal hairs removed. We know most raw denim fans don't like to wash jeans, so we don't mean they must be washed. We would like to have them in a decent condition for handling. We reserve the right not to work on smelling soiled jeans, or those covered with pet hairs.
Additional Service Information
This option is only for making tapered pants & jeans alterations
We do not work on tailored clothing and light weight fine fabrics

We reserve the right to be slightly off the requested measurements

Chainstitch hemming is included with this service

Williamsburg jeans are non-returnable after alterations are added

All alterations services are non-refundable

W

e accept orders online from anywhere in the USA or internationally

Price is per jean. Shipping is $19.50, no matter how many jeans are in the order
2-Way ship cost include shipping TO & FROM your address in the USA
1-Way ship cost covers only shipment to your address in the USA
International customers MUST ship to our address at their cost. We return ship at selected International shipping option
Maximum lost / damage package insurance is $100 unless insurance is purchased.
Extra insurance value can be purchased - HERE
Reviews
I'm so happy with the fit of my jeans and the craftsmanship that went into the alterations. Turnaround time was fast, communication was great and Maurice was helpful as this was my first go at denim customizations. I'm looking forward to using this service again and supporting Williamsburg Garment; the attention to detail is remarkable. Thank you for an excellent experience!

Four pairs of jeans tapered/hemmed and one just hemmed. All done perfectly. 10/10.

Exact measurements to my requested specifications! And extremely fast turnaround time. Will be bringing my other jeans to Maurice to fix up.

I sent 11 jeans for full tapering (flair/bellbottom to narrow leg) They turned out AMAZING!! great communication - while it took a few days longer - it was because they did a very detailed an d professional job. If you have high-end jeans and want them narrowed - while retaining the hgh quality - this is the company to use!!

Absolutely fantastic job. Did exactly what I asked and did it masterfully,, the chain-stitching is beautiful and he matched the thread color perfectly. Will definitely be a return customer.

I sent in a pair of raw denim jeans that did not fit as expected. I had low expectations and just hoped they fit a little better. They came back perfect! The staff communicated well to ensure my expectations, and the turnaround time was quick.

Williamsburg did an excellent job tapering my 19oz selvedge jeans. They knew to taper from the inseam and they even handled a double felled seam. On top of that, they were very quick. Highly recommend.

Great work on jeans tapering

Great work from these guys doing a slight taper and hem. 2 pairs done to spec, all the stitching looks well done thanks guys!

Got myself a perfect jean

Williamsburg garment company is like a hidden gem for me. This company offers the best jean alteration in Brooklyn.