Posted by Maurice Malone on 23rd Feb 2020
How did we get into custom jeans? Honestly, we kind of fell into it. After satisfying a few special requests for sold-out sizes and styles, we then started responding to customer requests for special tweaks (because standard off the shelf jeans didn't do the trick on their bodies). The demand kept growing, and our factories were always late with our bulk productions, so we decided to utilize our alterations equipment for in-house production, which lead to the roll-out of made-to-order shopping.
Shown below a custom jean specially produced for a customer with a tall slim build. He selected our slim Grand Street fit, ordering a 31-waist and long 37-inch inseams. He was able to select fabric, stitch and button colors and fly construction. You would be hard-pressed to find high quality off-the-shelf American made jeans in Japanese stretch selvedge denim, size 31x37 anywhere, let alone custom made by denim experts at our price.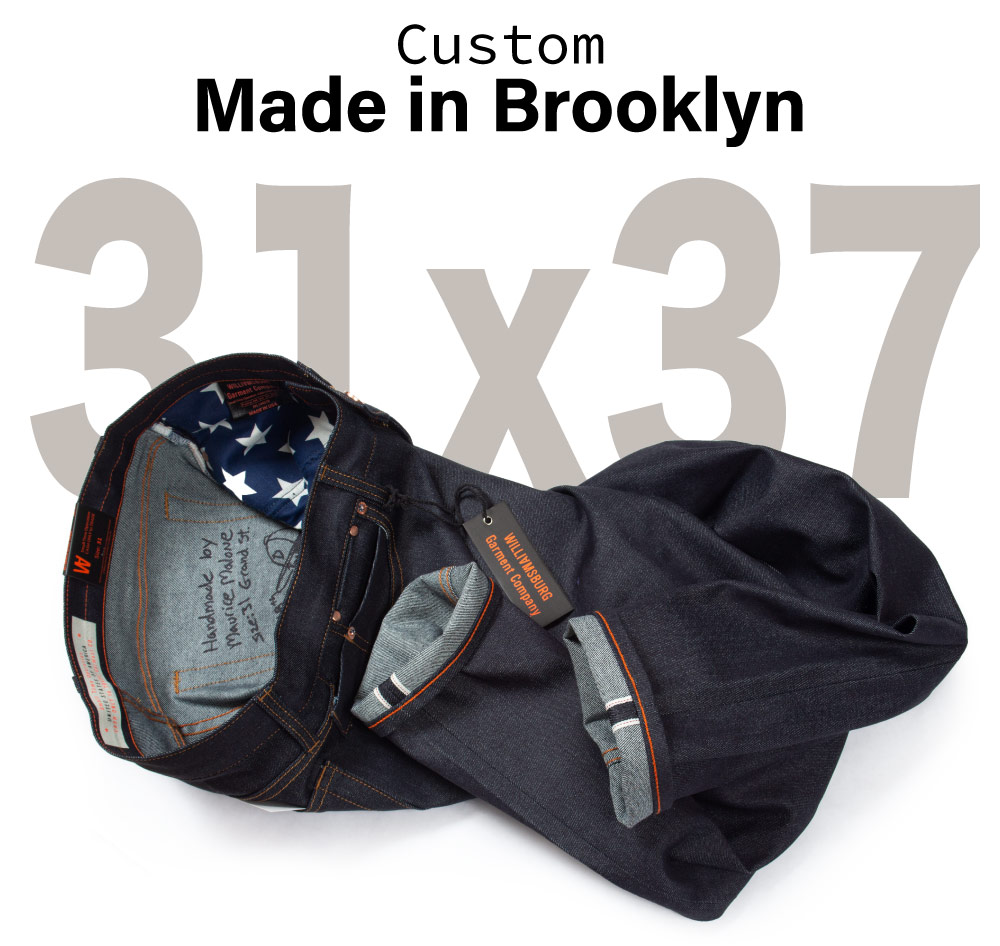 Every-so-often we update our color options. We don't stock hundreds of fabrics, broken down into ten or more varieties of say, 15-oz. indigo denim. But, we do try to offer multiple categories of our hand-picked favorites. If there's a denim type or color you are looking to get custom made, just send us an email. We will do our best to find it.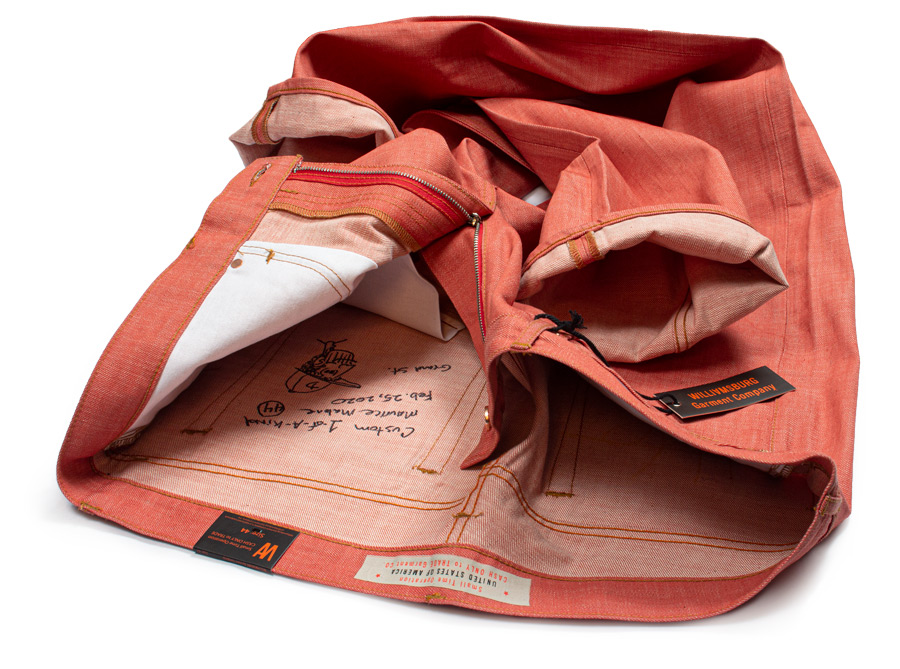 Most people researching custom made jeans don't realize there's a big difference between jeans made by a tailor and those from a denim company or specialist. It takes an assortment of heavy-duty machines to properly make a pair of jeans. Most are not found at tailor shops, who generally work with fine light to medium weight fabrics. Also, the rules and techniques tailors use in making trousers don't really apply in jeans production. So, be careful. Don't think the tailor crafting your bespoke suit could just as well make you bespoke jeans. You may end up with a pair of pants made in denim, instead of a pair of jeans, that have the qualities uniquely associated with quality denim.
Below, we explain the equipment commonly used in manufacturing jeans with links, which go into more detail about each machine. But, keep in mind, large mass-production factories may use advanced automated machines to perform the same task.
Single-needle (The workhorse of all machines):
Sews zipper & button fly construction
Close & finish front pocket bags
Finishes waistband sewing
Sews rear pockets
Sews various single-needle topstitching
Close outseams (Optional, chain stitching is best)
Double-needle
Sews front & rear pocket opening edge
Sews J-Stitch at fly
Double-needle chain stitch with extended arm
Sews rear yoke & center seam
Sews inseam (double-needle option)
Single needle chain stitch machine
Close outseams (stronger than a regular single needle)
Sews hem (stronger than a regular single needle)
Sews curved hip area at outseams
Sews inseam (single needle option)
Sews center seam edge of front leg panels
Sews edge of all fly panels
Waistband machine
Sews & flattening waistband with chain stitch
Beltloop machine
Cover stitches underside while double stitching top side
Keyhole machine:
Creates the buttonhole on the waistband
Bartack machine:
Attaches the belt loops
Tacks corners of rear pockets
Tacks fly panel at the J-Stitch
Kickpress
Attaches buttons & rivets