Standard men's raw jeans made in USA
The core standard Grand Street raw denim jeans are the culmination of our efforts to make the best quality, moderate priced American made jeans. Slim fit, with slightly crisp 11.5 ounce unwashed U.S. made Cone Mills White Oak denim. The printed pocket bags inspired by the American Flag are a hallmark of our brand. Unique style elements include 2-tone thread color and orange contrasting overlock stitching on the non-selvage out-seams.
Review our article on the shrinkage & growth associated with this style.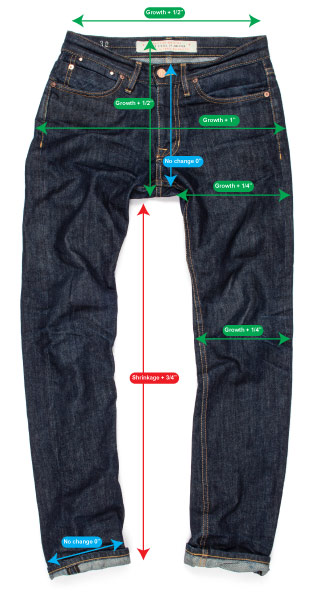 If you are a beginner to raw denim, this type of jean is best when worn for a long period before washing. Most fans of raw jeans prefer to naturally form stretch marks, unique worn areas and aging. However, unwashed denim shrinks once touched by water. If you choose to wash the jeans, expect them to shrink about 1 size, to be on the safe side. The tested shrinkage rate for this style is 3.5% in width and 2.5% in length.

11.5 oz Raw Denim
2-tone stitching
100% Cotton 3x1 Right Hand Twill (RHT)
American Made Denim Fabric by Cone Mills
Zipper Fly
Made in USA Jeans
7 Reviews
Nice material and craftsmanship

I bought the 15 oz selvedge button fly Grand Street and they were the best made jeans I have ever found so I ordered the 11.5 oz Cone Mill raw Grand Streets both of these are my favorite jeans I love the pockets inside and also the fact that they are made in the USA. Thank-you Williamsburg Garment Company

These are really worth the price. The fit is perfect, they felt like they were tailored just for me. The construction and details are all high quality. I had wanted to try these jeans for a while, and I'm glad I finally did. I feel like I've found my perfect pair of jeans.

He always did sell good quality clothes. ..thx Maurice Malone

excellent fit and details

All in all perfect, great weight of denim, excellent understated stitching details and a totally kick anus fit!
The only thing I was not enjoying and these details are only seen by myself and those who disrobe me...wish they were button fly and wish the bright and frightfully patriotic pocket liners were less so!
I will buy more from your co. for I am pleased!

I usually wear denim from under the bridge (after boiling it of course) but I hunted for the best American made jeans out there at the best price. These bad boys were the answer, nice snug fit at first now just working on breaking them in. They are most definitely of the highest quality. I hope I can carry these in my own store when we open this spring!

So, I've been on a jean quest the last few weeks and so far, these are my new favorites! I usually wash my new clothes before I wear them, but I decided to take the advice and wear the crap out these bad boys first!
I really like the quality of the denim and the simple look, black button and the low key little pocket, great jeans!!