Denim enthusiast know the best whiskers are made by starting with a pair of dark raw denim jeans and just wearing the hell out of them. An example can be seen in the image below of an 1-year old 15-oz Williamsburg jean. On the other hand, the average consumer may be asking, "what are whiskers on jeans?" Because they only know the jeans they buy in stores come with a worn in look and can't tell what looks natural and what looks manufactured.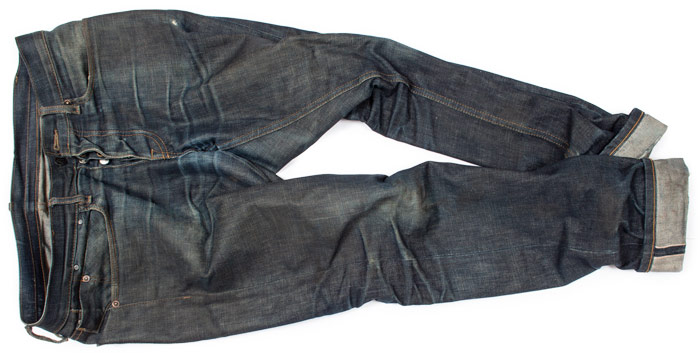 If you don't have the patience to break in a pair of raw denim jeans or can't deal with rules of wearing them, choosing rather buy pre-washed. You should at minimum be educated on what looks real or good in terms of washes. This is the first article in a new series where we breakdown many of the effects seen in naturally aged denim jeans. We will explain how the effects are created to make prefabricated washes look naturally aged.
What are Jean Whiskers
Whiskers, also called Mustaches, Hige, Crease Lines, etc., can be seen on the jeans below, which formed naturally from the state raw denim jeans. Lines from repeated stretching and pulling motion develop at the front hip area. Crease lines extend out from the crotch and across the out-seams of the hips. As raw jeans age. Abrasion on the high points of the surface fade and become brighter than the surrounding areas as indigo or dye rubs off.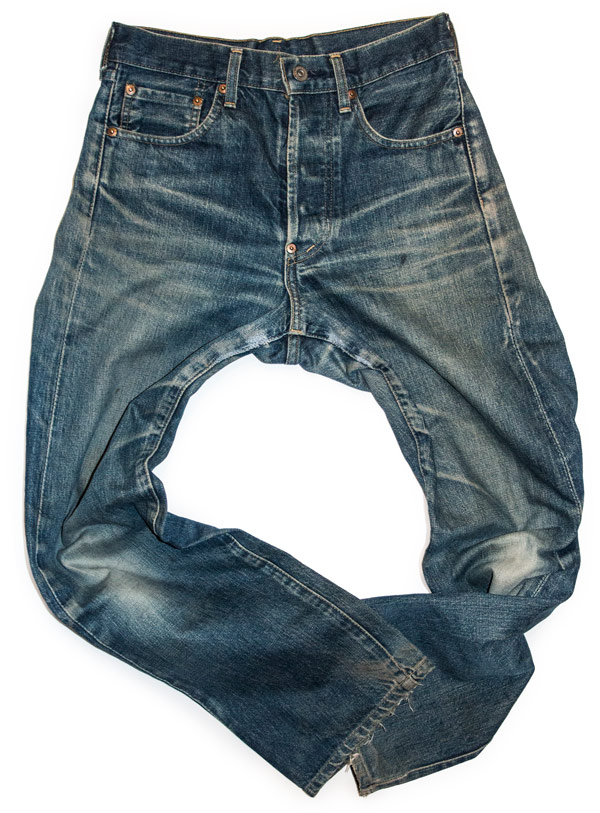 How to put whiskers on jeans
On pre-washed or commercially processed jeans, fabricating whiskers are one of the most copied and difficult effects to achieve. They are artificially created by hand sanding the jeans before they are washed and still in "raw denim" form. On lower priced jeans, the effect usually looks fake, like drawn white lines. On jeans that garner higher price tags, sometimes known as premium denim, more time and effort is spent to make the whiskers look as real as possible by fading them in-and-out, mimicking high to low points.
The above photo shows hand sanding on jeans in raw denim form to add whiskered effects before washing, buttons, rivets and labels are added, which is also called finishing. The below photo shows a finished product with artificial aging through the wash manufacturing process.