Posted by Maurice Malone on 5th Jun 2016
How much does raw denim stretch? A common question about raw jeans answered.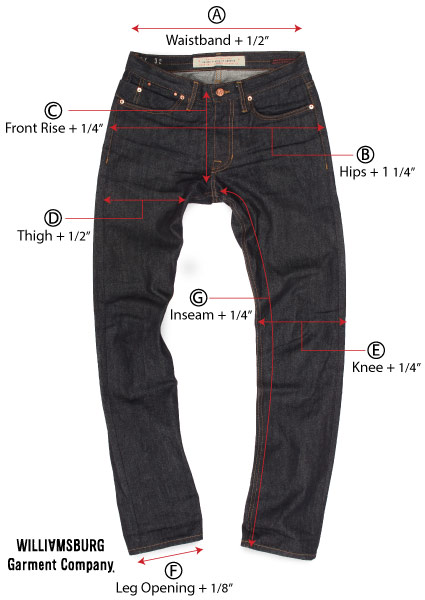 We decided to create this raw denim guide to answer a common question about breaking in raw jeans, " how much does raw denim stretch?" We took measurements from a customer's jeans after being worn about 2 months and then compared them to the original measurements of a jean from the same production.
The style used in this experiment is the Standard Slim Fit Raw Denim Grand Street. The same denim is used in the Standard Relaxed Fit Raw Denim Jeans, so the same amount of growth can be expected. Here is what we found.
A. The waistband grew ½".
B. The hips grew 1 ¼".
C. The front rise grew ¼".
D. The thigh grew ½".
E. The knee grew ¼".
F. The leg opening grew 1/8".
G. The inseam grew ¼".
To answer wash and shrinkage questions, earlier experiments of the raw denim jeans in these styles show the shrink rate at 3.5% in width and 2.5% in length.