Pre-order the newest men's slim fit raw denim American made jeans sewn in 15-oz. Japanese selvedge and save up to 10%
Note: the websites platform prevents the Big and Tall original prices to auto display for comparison. Only the discounted price is displayed which is slightly less than 10% because of the calculation limitations of the site. Projected delivery Sept. 28 to Oct. 4, 2018
Style & Fit: Grand Street | Slim
Grand Street is our best-selling men's jeans fit. It has a medium rise with ease above the knee and slight tapering to the hem. The leg opening is sized to sit atop high-top sneakers or boots. The opening is also large enough to be pulled down for a snug fit over most boots.
Fabric & Care: Raw Denim
The fabric is Japanese made Kuroki denim with red line self edge. There is a modest vintage tint in the white yarns of the fabric, which also has a mildly uneven twill pattern. As you wear and break-in the jeans, the fabric will begin to show beautiful fades which are unique and personal to your daily lifestyle. If you do not plan to wear the jeans unwashed long enough to incur growth, and have plans to wash them soon after purchase or regularly, you should expect about 1 size or 5% overall shrinkage rate in general. If you are new to raw jeans, learn more by reading our page explaining raw denim in detail, and our guide for details on growth and shrinkage.
Natural Aging: Fading
For an idea of how raw jeans fade after months to years of wear, we photographed jeans submitted from our customers in for either alterations or repairs. Check-out our section called RAW FADES.
General Details: Trim
This style features our trademark medium weight twill American Flag inspired pocket bags. Vintage type heavy black rivets and shank button darken the overall shade of the dark indigo denim, lowering the contrast.
Made in USA: Quality
Our mission since day one has been to provide the best jeans made in USA at a reasonable price. For the last few decades, American branded jeans actually made in USA have become rare. Since the closing of the Cone White Oak denim factory in North Carolina, those produced in U.S. manufactured selvedge denim have become even more scarce. We thank you for supporting our brand and mission.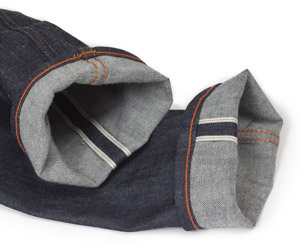 Red line Japanese Selvedge
15-oz. 3X1 RHT Raw Denim
100% cotton
Zipper Fly
Sanforized Denim
Slim Fit
Made in USA Jeans